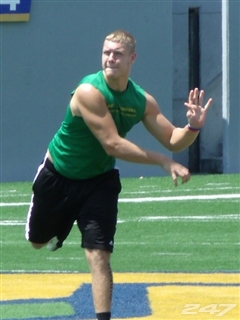 Ceiling: 8.25

Ranking: 6.5
Floor: 5
School: Ursuline (Youngstown, OH)
Size: 6'4" - 230 lbs.
Composite: 3 Star, 0.
8877,
#16 Pro, #319 Overall
Scout: 4 Star, #14 Pro, #239 Overall
Favorites:
Michigan State (Commit)
Other Notable Offers:
Cal, Illinois, Indiana, Northwestern
Strengths
Ball velocity and rotation, putting the ball on receivers fast
Very good running ability
Capable of threatening every area of the field with arm
Has the ability to make throws to every part of the field. Has good pure arm strength and releases the ball with good arm and wrist snap, giving the ball pretty good velocity and puts it on the receiver fast. Quick release allows him to get the ball out of his hands fast. Capable of putting the ball in all areas of the field and should be able to develop his mechanics below his waist to be better adept at throwing outs. His ball velocity allows him to attack seams and dig routes and his quick release gives defenses little time to jump routes before making the throw. Also, this allows him to get the ball out quickly on screens.
As a runner he is quick to get down hill and up to speed. Great size and build for the QB position. Not extremely elusive, but elusive enough to break arm tackles. Gets shoulders low and keeps feet churning to pick up extra yardage, and while he doesn't have the pure straight line speed to take it to the house, can have runs designed for him, both on option runs and pure QB leads and draws to pick up good yards on a consistent basis. Capable of escaping the pocket and difficult for less agile defenders to break down in space and get solid hits on him. Will be a very good red zone threat.
Weaknesses
Needs improved footwork when passing the football leading to higher consistency
Changing ball speed and trajectory
Really needs to focus on his footwork, as it is a bit all over the place. Often fails to even step into throws and his weight transition from back to front foot is lacking. For Durkin, it isn't so much as a matter of fixing throwing power as much as becoming more consistently accurate. It would also help him to hit deep outs should that be a pass he will make at the next level, as getting it out there with pure arm strength could cause it to float and be undercut. Struggles at times to change up passing trajectory and put some air under it, can struggle to fit the ball between levels and sometimes over the top of defenses with consistency. Doesn't do a very good job of getting his shoulders and hips up field when moving the pocket and accuracy will be an issue when he is forced to move around. Will need to improve his ability to hit receivers between zones toward the outside, which means he needs to improve footwork again to fit into those windows.
Whether he is capable or not, I'm not sure, but he did not make many reads in the run game, leading me to believe he was much more of a pure runner than a reader at this point. Also didn't look comfortable under center, either getting depth out of there, or with his back to the defense on play action, where his footwork went to hell.
Video
Longer video available
here at his hudl page
Comments
For his ability to run with the football, Durkin is a surprisingly capable passer. He holds the ball high and releases the ball with good arm and wrist snap, allowing the ball to spin well and get on receivers quickly. Because of that, combined with his pure arm strength, he can make pretty much every pass at the next level. But he does need to improve his footwork for other reasons. He rarely did a good job of transitioning his weight or really even stepping into throws. While his throwing power is good despite that, it would significantly help his accuracy by making him more consistent, while also giving him a better opportunity to hit the deep outs and such, that regardless of arm strength, are difficult to impossible to throw at the next level without good mechanics below the waist. His success as a pure passer will likely depend on if he can improve his footwork and abilities to read defenses.
Projection
QB
Early playing time via a special package
Red Zone threat early in career
In my opinion, Durkin could take a couple of paths to playing time. I do think he's more than capable enough to be a QB at the next level, but if for whatever reason that doesn't work out, he could potentially make a switch to fullback or even an H-back. If he can tackle, he's a potential candidate even for special teams, though that is unlikely.
As a QB, I think he could see early playing time in designed packages. He'll likely be a good threat in the red zone because of his ability to run with power. As long as he can continue to improve his reads and progressions, he should be able to play it safe toward that end of the field, occasionally mix in QB runs with some fake QB runs to hit open receivers. Outside of that, he likely won't be asked to run a pure passing game, especially towards the end zone in and goal and long early on. If his footwork develops, he can be a multi-year starter at the next level. The best offense will allow him to threaten defenses with his legs, particularly on designed QB runs rather than option type runs. A quasi-spread-single-wing offense will allow him to see the field well as well as run the ball. I do think to take advantage of his abilities you do not want him under center, and rather want him playing mostly out of a gun. He didn't look comfortable with his back to the defense or with his footwork from that position, and likely hasn't taken many reps to see or feel the defense as well from that position. It will be interesting to see how/if MSU combines what is their typical down hill, inside zone rushing attack along with Durkin. Optimally, they would run some inside zones while only doing the read for show purposes, while also keeping the depth between the RB and QB somewhat minimal so that designed QB leads and sweeps can be implemented.
Regardless if he develops a lot as a passer with mechanics and reads, he should at least be able to have a package as well as the potential to even switch positions, giving him a fairly high floor. His projection now is due to the fact that I don't anticipate MSU to mold an offense around him. It will likely be a mix of what they currently do along with some of the things Durkin does well. There's a fine line between fitting and offense for a QB and fitting an offense for your team. It's left to be seen if how high Michigan State can push Durkin's level of play to maximize their ability on offense as a team.
Etc.
I have no idea why sites are listing him as a pro-style QB. Likely because he isn't a speed QB, but that's nonsense. Durkin will likely start as a QB that uses his legs more than his arm, as he has tended to do in high school, and will continue to use his legs at the next level, particularly in the red zone and in "and short" situations.